Welcome To Sooty's Home Page
Elle est morte
Sooty was a little black cat that lived in Te Puke, New Zealand in relative comfort. Unfortunately she has passed away aged 20 years on 14 February 2014 after outliving all the other cats, dogs, lambs and chooks that we had as pets over the years. What started as a joke name has become a rather large web site. Please enjoy.
This website was last updated on: Friday 01 September 2023.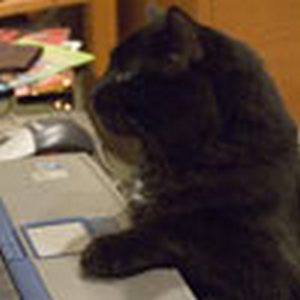 Sooty hard at work
Thanks to the Great Guys at Freefind.Com who appreciate what I am doing. (If you need a search engine these guys are great)
Thanks for visiting. Please advise of any broken links. My email address is cmclementnz at gmail.com
Christine Clement (nee Ward)
Te Puke (ex Taihape, Wanganui, Wellington and Hawera)
New Zealand
I AM SLOWLY WINDING SOOTY DOWN - I HAVE GIVEN MANY OF THE PAGES TO OTHER GROUPS IN NEW ZEALAND AND AROUND THE WORLD
IF YOU WANT TO TAKE OVER ANY OF THE PAGES PLEASE ASK - IM QUITE FRIENDLY.
Here are some areas of interest: