NEW ZEALAND DISASTERS AND TRAGEDIES
EXPLOSION ON THE US GUNBOAT BENNINGTON, SAN DIEGO, CALIFORNIA
21 JULY 1905
On the 21 July 1905 the US gunboat USS BENNINGTON suddenly exploded at around 10.30am while lying at anchor in the San Diego harbour.
The total number of persons killed was 62 and one was Frank DE CURTONI, a native of Nelson, New Zealand.
He is buried at the SAN FRANCISCO NATIONAL CEMETERY, CALIFORNIA: -

DE CURTONI, Frank, d. 07/21/1905, Petty Off Oiler USS Bennington, US Navy, Original Burial Ft Rosecrans, California, Plot: W/SID208
The following is from a newspaper report of the time: - Frank came to America around 1892, and took residence with his uncle J DE CURTONI, a grocer, about 1898. He enlisted in the US Navy and was assigned to the YORKTOWN when that vessel was in the Phillipines. He was afterwards transferred to the OREGON and upon his second enlistment three years ago he was detailed to the Bennington. Four sisters, Lillian and Elizabeth CURTONI, Mrs P HARDING and Mrs A BURTON, and two brothers, Edwin (residing in San Diego) and Louis (Engineer on the transport LOGAN and formerley of the cruiser OLYMPIA) - survive him. At the time of his death Frank was 29 years old.
However I received the following information from a relation: -
1/ Frank's Uncle was not J De Curtoni but Frank De Curtoni. He was also treasurer of the Servian Montenegrain Society in San Francisco.
2/ One of Frank's married sisters names is not correct. How the reporter got a Mrs A Burton I don't know, as this sister was my great grandmother and she was Mrs N J Wakely. (nee Annie Alice De Curtoni).
3/ The residence of his brother, Edwin, was not San Diego but San Francisco.
In NZ the De Curtoni name was spelt as De Cartoni or just plain Cartoni. I have just stuck with the USA spelling. You may be interested to know that Frank's older brother, Louis, referred to in the article above, also lost his life at sea in another disaster on the night of 27 Jan 1916 off Ocean Beach, San Francisco. Louis was Chief engineer on the Oakland garbage scow "Aberdeen" which was wrecked. All aboard were lost and the bodies never found.
The death notice reads:-

DE CURTONI - On the United States gunboat Bennington in San Diego Bay, California, Jluy 21, 1905, Frank P, beloved nephew of Frank and Martha de Curtoni, brother of Louis, Lily and Edwin de Curtoni and cousin of Mrs Frank Guthrie, and Frank, Olga, Mark and John de Curtoni, a native of New Zealand, aged 29 years.
See also BENNINGTON EXPLOSION.
The photos are of the Bennington Memorial in Bennington, Vermont. It is located at the Town Office Building on the front lawn. Thanks to Joseph L. Pires, the USS Bennington Ship & Website Historian, Cape Cod, Massachusetts.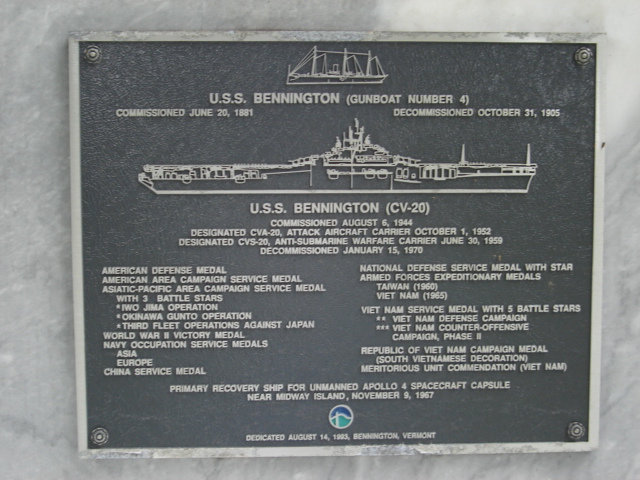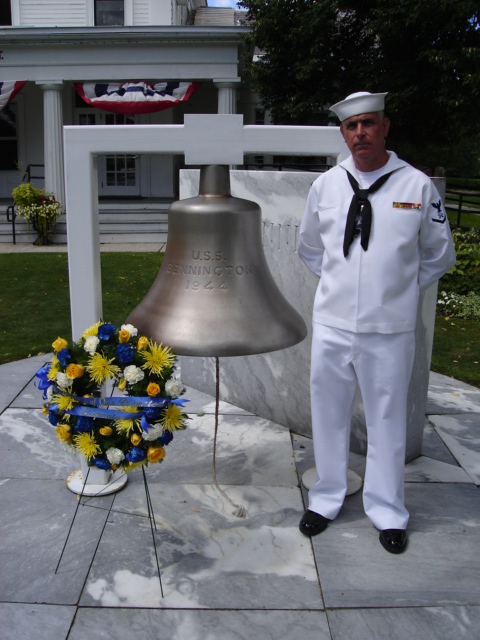 ---
FAMILIES I AM RESEARCHING | MISCELLANEOUS GENEALOGICAL STUFF | NEW ZEALAND — ON LINE GENEALOGICAL AND FAMILY HISTORY RESOURCES | NEW ZEALAND — YOUNG BOY IMMIGRANT SCHEME 1911 — 1914 | NEW ZEALAND DISASTERS AND TRAGEDIES | NEW ZEALAND MISCELLANEOUS GENEALOGICAL INDEXES | NEW ZEALAND LAND WARS — MISCELLANEOUS GENEALOGICAL INDEXES | NEW ZEALAND AND WORLD WAR ONE | NEW ZEALAND AND WORLD WAR TWO | NEW ZEALAND ROLLS OF HONOUR AND WAR MEMORIALS — BY LOCATION | NEW ZEALAND ROLLS OF HONOUR AND WAR MEMORIALS — BY CONFLICT | NEW ZEALAND ROLLS OF HONOUR — MILITARY NURSES | PAKEHA/MAORI TRANSLITERATIONS | PASSENGER LISTS TO NEW ZEALAND | SHAND — FAMILY HISTORY | SOUTH TARANAKI, NEW ZEALAND — GENEALOGICAL RESOURCES | SPONDON, DERBYSHIRE, ENGLAND — GENEALOGICAL RESOURCES | WANGANUI COLLEGIATE SCHOOL 1865 — 1947 | WESTERN BAY OF PLENTY, NEW ZEALAND — GENEALOGICAL RESOURCES