NEW ZEALAND DISASTERS AND TRAGEDIES
BRUNNER GORGE LANDSLIDE, BRUNNERTON, WEST COAST, SOUTH ISLAND
WEDNESDAY 25 MAY 1904
At 2.30am on Wednesday 25 May 1904, a large landslide came down on to the settlement at Wallsend in the Brunner Gorge, Brunnerton. This was during particularly heavy rain. (At the same time the West Coast of the North Island was experiencing heavy flooding with Wanganui suffering its worst flood ever - even exceeding the 2004 floods.)
The landslide smashed through half of JONES Terminus Hotel killing the proprietor Henry JONES, and severley shaking the three Miss JONES in the building.
In the next house were Walter and Ellen COSGROVE and their seven children. At first Mr and Mrs COSGROVE were able to escape from the house with their two younger children but a later landslide came down engulfing them all. Mr and Mrs COSGROVE were pulled to safety but the two children died. The other five children were in a bedroom at the back of the house and stood no chance against the estimated "2000 yards of earth, trees and rocks in the slip".
Mr A W PARKINSON's chemist was destroyed but its four residents were rescued. Mr PARKINSON suffered a leg injury.
Mr J P PITMAN's house capsized and Mr M'KITTRICK, the Brunnerton postmaster's house was damaged. The Brunner mine and stables were also covered with the debris.
It was estimated that 200 miners from the area came and dug frantically for survivors to no avail. The next day a fund was set up for the surviving families. Mr and Mrs COSGROVE went on to have another son Joseph who was born in 1905. He died in 1965.
| | | |
| --- | --- | --- |
| COSGROVE | Elizabeth (Bessie) | 13 |
| COSGROVE | Margaret (Maggie) | 12 |
| COSGROVE | Mary | 10 |
| COSGROVE | Thomas | 8 |
| COSGROVE | John (Jack) | 5 |
| COSGROVE | Nelly | 4 |
| COSGROVE | Nora | 18m |
| JONES | Henry | 60 |
In May 2004, the descendants of the COSGROVE family unveiled a plaque on the family headstone. Thanks to Terena Currey for this photo.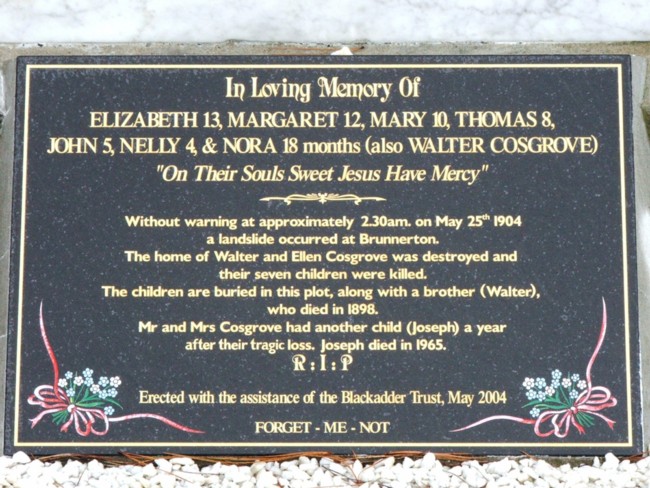 ---
FAMILIES I AM RESEARCHING | MISCELLANEOUS GENEALOGICAL STUFF | NEW ZEALAND — ON LINE GENEALOGICAL AND FAMILY HISTORY RESOURCES | NEW ZEALAND — YOUNG BOY IMMIGRANT SCHEME 1911 — 1914 | NEW ZEALAND DISASTERS AND TRAGEDIES | NEW ZEALAND MISCELLANEOUS GENEALOGICAL INDEXES | NEW ZEALAND LAND WARS — MISCELLANEOUS GENEALOGICAL INDEXES | NEW ZEALAND AND WORLD WAR ONE | NEW ZEALAND AND WORLD WAR TWO | NEW ZEALAND ROLLS OF HONOUR AND WAR MEMORIALS — BY LOCATION | NEW ZEALAND ROLLS OF HONOUR AND WAR MEMORIALS — BY CONFLICT | NEW ZEALAND ROLLS OF HONOUR — MILITARY NURSES | PAKEHA/MAORI TRANSLITERATIONS | PASSENGER LISTS TO NEW ZEALAND | SHAND — FAMILY HISTORY | SOUTH TARANAKI, NEW ZEALAND — GENEALOGICAL RESOURCES | SPONDON, DERBYSHIRE, ENGLAND — GENEALOGICAL RESOURCES | WANGANUI COLLEGIATE SCHOOL 1865 — 1947 | WESTERN BAY OF PLENTY, NEW ZEALAND — GENEALOGICAL RESOURCES