NEW ZEALAND DISASTERS
HYDE RAILWAY ACCIDENT
OTAGO, SOUTH ISLAND
FRIDAY 04 JUNE 1943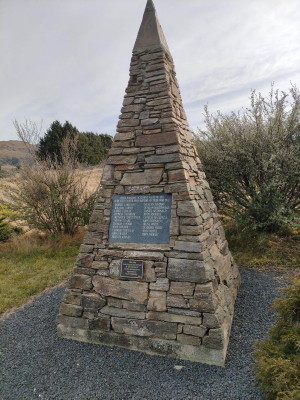 Twenty one people were killed when the Cromwell to Dunedin express left the rails and crashed on its side while rounding a curve on the (now closed) Otago Central line, south of Hyde. There were 113 passengers on board, many bound for the Dunedin Winter Show or the Wingatui race meeting. Forty seven people were injured.
The inquiry found that the intoxication of the engine-driver was the primary cause of the accident as well as excessive speed. The driver had survived and was charged with manslaugter. He was sentenced to three years imprisonment.
On the 17 February 1991 a memorial dedicated to those who died was unveiled at the site. Thanks to Stew Watson for this information.
For further information see the book Stories of the Hyde Railway Disaster 1943 by Elizabeth Coleman (2008 ISBN 978 0 473 14566 8) and HYDE RAILWAY ACCIDENT.
The 150km long Otago Central former railway track has been redeveloped for the recreational use of walkers, cyclists and horse riders. The crushed rock ballast of the railway foundation has been removed to improve the surface for users. It has over 60 redecked bridges and is a unique recreational facility within New Zealand. For further information see OTAGO CENTRAL RAIL TRAIL. - Linked.
| | |
| --- | --- |
| CARR | Robert (Snr) |
| CARSON | William |
| CASSELS | Ethel |
| CHISHOLM | Thomas |
| CHRISTOPHER | Frederick |
| CLARE | Thomas |
| CONNOR | John |
| CONNOR | Thomas |
| DOUGLAS | Charles |
| FRATER | John |
| KINNEY | Francis |
| LINDSAY | Duncan |
| MACDONALD | Duncan |
| MACKENZIE | Charles |
| MASKELL | John |
| McDONALD | Daniel |
| O'CONNELL | John |
| WHITE | Desmond |
| WHITE | Irene |
| WHITE | John |
| WRIGHT | John |
---
FAMILIES I AM RESEARCHING | MISCELLANEOUS GENEALOGICAL STUFF | NEW ZEALAND — ON LINE GENEALOGICAL AND FAMILY HISTORY RESOURCES | NEW ZEALAND — YOUNG BOY IMMIGRANT SCHEME 1911 — 1914 | NEW ZEALAND DISASTERS AND TRAGEDIES | NEW ZEALAND MISCELLANEOUS GENEALOGICAL INDEXES | NEW ZEALAND LAND WARS — MISCELLANEOUS GENEALOGICAL INDEXES | NEW ZEALAND AND WORLD WAR ONE | NEW ZEALAND AND WORLD WAR TWO | NEW ZEALAND ROLLS OF HONOUR AND WAR MEMORIALS — BY LOCATION | NEW ZEALAND ROLLS OF HONOUR AND WAR MEMORIALS — BY CONFLICT | NEW ZEALAND ROLLS OF HONOUR — MILITARY NURSES | PAKEHA/MAORI TRANSLITERATIONS | PASSENGER LISTS TO NEW ZEALAND | SHAND — FAMILY HISTORY | SOUTH TARANAKI, NEW ZEALAND — GENEALOGICAL RESOURCES | SPONDON, DERBYSHIRE, ENGLAND — GENEALOGICAL RESOURCES | WANGANUI COLLEGIATE SCHOOL 1865 — 1947 | WESTERN BAY OF PLENTY, NEW ZEALAND — GENEALOGICAL RESOURCES