THE SINKING OF THE YACHT "MINERVA"
SUNDAY 02 OCTOBER 1892
WHANGAREI
Source - The Northern Advocate and Whangarei County Gazette October 1892, Elaine Bell and Deidre Stirling (2008).
The yacht Minerva was struck by a squall about three miles off Marsden Point just opposite One Tree Point at Whangarei on Sunday 2 October 1892 and eight of the nine men on board were drowned.
The yacht was owned by Mr J P TUCKER, a coachbuilder of Whangarei (and a nephew of Mr C BAILEY of Auckland) and had recently been brought from Auckland.
The accident was observed by R SCOTT and H GOING who were also out sailing. They immediately sailed for the place where the yacht sank. After about an hour they reached the spot and were able to rescue John A PEARSON who was still swimming, though almost exhausted.
The body of Edwin G Courtney was recovered a few days later and the North Otago Times of 19 August 1893 (nearly a year after the accident) records that "The skeleton found at Whangarei Heads is fully identified as that of Ramsey, which is to be buried at Kamo cemetery with the other victims of the Minerva yacht accident". The inquest for Edwin Courtney recommended that Messrs SCOTT and GOING's services be brought to the notice of the Royal Humane Society.
Those drowned were: -
| | | | |
| --- | --- | --- | --- |
| BROOKER | Albert Victor | Son of Mr W Brooker, butcher | Unmarried |
| COURTNEY | Edwin George | Son of Mr Alfred Charles Courtney, bootmaker, and Alice nee Wright | Unmarried |
| GALLIE | Alex | Blacksmith. Aged 22. His mother resides in Wellington | - |
| RAMSAY | Frank | Plumber (Tinsmith), stepson of Mr Ramsay, piano tuner | Unmarried |
| SEALY | Horace Frederick | Tailor of Cameron Street | Married with no children |
| TUCKER | Albert | - | Single but to be married that week. Brother of J P Tucker. |
| TUCKER | John Paul | Blacksmith and coachbuilder | Wife and 5 children |
| WILSON | Clifford | Miner | Unmarried |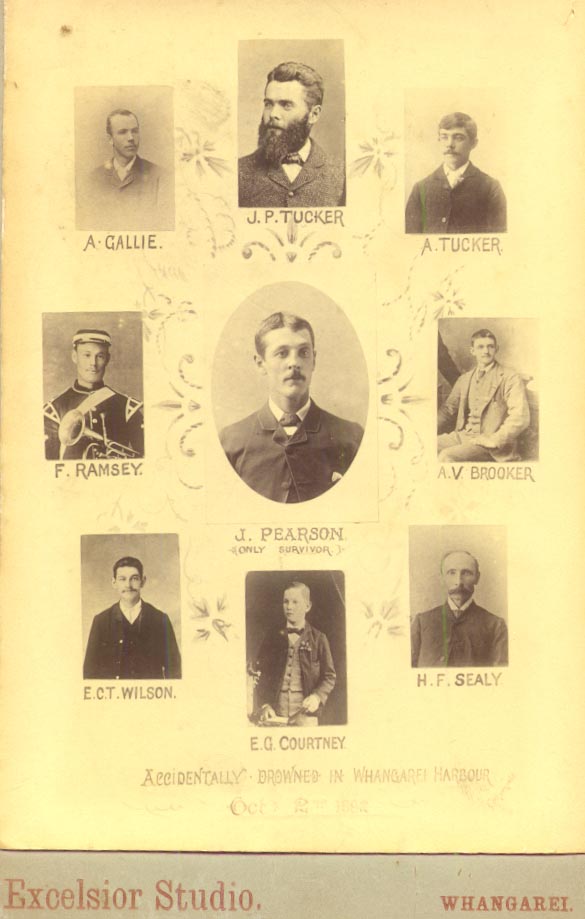 Thanks to Elaine Bell for this commemorative postcard.
---
FAMILIES I AM RESEARCHING | MISCELLANEOUS GENEALOGICAL STUFF | NEW ZEALAND — ON LINE GENEALOGICAL AND FAMILY HISTORY RESOURCES | NEW ZEALAND — YOUNG BOY IMMIGRANT SCHEME 1911 — 1914 | NEW ZEALAND DISASTERS AND TRAGEDIES | NEW ZEALAND MISCELLANEOUS GENEALOGICAL INDEXES | NEW ZEALAND LAND WARS — MISCELLANEOUS GENEALOGICAL INDEXES | NEW ZEALAND AND WORLD WAR ONE | NEW ZEALAND AND WORLD WAR TWO | NEW ZEALAND ROLLS OF HONOUR AND WAR MEMORIALS — BY LOCATION | NEW ZEALAND ROLLS OF HONOUR AND WAR MEMORIALS — BY CONFLICT | NEW ZEALAND ROLLS OF HONOUR — MILITARY NURSES | PAKEHA/MAORI TRANSLITERATIONS | PASSENGER LISTS TO NEW ZEALAND | SHAND — FAMILY HISTORY | SOUTH TARANAKI, NEW ZEALAND — GENEALOGICAL RESOURCES | SPONDON, DERBYSHIRE, ENGLAND — GENEALOGICAL RESOURCES | WANGANUI COLLEGIATE SCHOOL 1865 — 1947 | WESTERN BAY OF PLENTY, NEW ZEALAND — GENEALOGICAL RESOURCES